We have all different sizes. And that's good! Explore our size charts so everything fits you perfectly.
Carefully select the right size and the most suitable cut. Improperly selected type of shoes, incorrect size, width or shape cannot be a reason for a later complaint. The toe should not touch the inner wall of the toe when walking, if your foot is stuffed in the toe, the fabric may slip and a hole may form.
For hygienic reasons, we recommend wearing socks in the shoes. Also the hemp fabric might be rought at first, by wearing socks you'll ensure better comfort.
We want our shoes to give you that perfect fit so we created this simple size guide for your new barefoot shoes.
So how do I find my size?
In barefoot shoes don't go by the conventional sizing you were used to.
Instead, follow these quick and easy instructions:
1) download and print out your size: 36 37 38 39 40 41 42 43 44 45 46 47
print the page in A4 format and at 100%
2) place your foot on the sheet, your heel on the bottom line
3) for optimal barefoot feel add 10-15 mm of extra space to the result
4) if not sure about the width, draw the outline of your foot, then measure the widest point, and compare with our sizing chart on this page
5) repeat for your other foot, feet are rarely exactly the same
In case you find one of your feet longer or wider than the other, choose your size based on the larger foot.
You may be surprised that your barefoot size result is bigger than your conventional size but that is completely normal.
Recommended: Measure your feet at the end of the day as feet are likely to get bigger through the day.
Barefoot shoes sizing chart
How did we measure our insoles?
Different brands use different methods for measuring barefoot sizes. For example, some advice to measure between the widest points of your foot, even if that is diagonal. We think the following is the clearest way to give accurate measurements of our shoes:
1) space between the heel and farthest point of the insole at a right angle with the heel line
2) the widest space at a right angle to the length line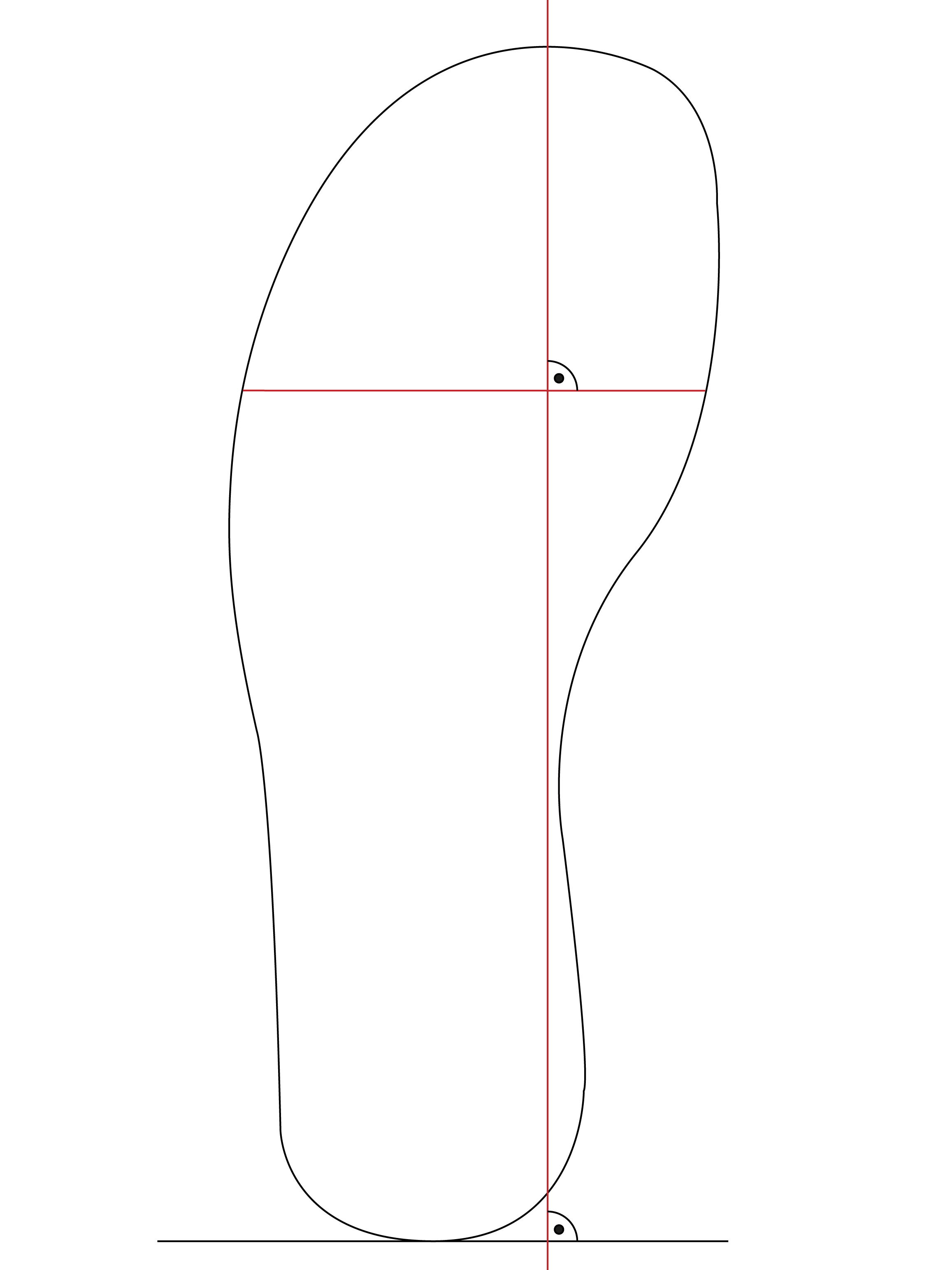 What else is there to know about the Bohempia barefoot collection?
Why the extra space?
In barefoot shoes, it is recommended to have some free space around our feet. The reason for this is that barefoot shoes should allow our feet to work naturally instead of restricting their movement in any way. After adding the extra space it is likely your barefoot shoes size will be larger than the size you were used to wearing before.
We recommend adding about 1 cm in length and 4-6mm in width (for example about 2mm on each side).
Keep in mind not to add too much space. Although the barefoot shoe should give you enough space to walk naturally, it is important that it isn't too loose and you don't feel like you have to hold the shoe in place with your toes while walking.
Because of having that extra space, the insole can sometimes start sliding in the shoe. In this case, we recommend securing the insole with double-sided tape. We do not glue our insoles in so that you can replace them with new ones after they wear out.
Which Bohempia barefoot model will fit me?
It is entirely up to you which model you choose. However, we recognise that some models may be more suitable for a certain type of foot so you cannot go wrong checking out these tips:
if you have high or very low arches, we recommend models that can be better laced up, for example, HOSKA

KOLDAs can feel tight if your have high arches

if you have an issue with finding wide barefoot shoes look no further – we make all our barefoot models in both regular and wide
Socks
Wearing socks in our barefoot shoes will not only give you higher comfort, but it is also more hygienic for your feet. Also, when getting new winter barefoot boots think about adding more space for thicker socks.
Hemp has great antimicrobial and thermoregulatory properties and so do our socks. Don't forget to check them out for your new shoes!
Have we answered your questions? If not, please send us an e-mail to info@bohempia.com and we will get back to you as soon as possible.
Hemp clothes
If you are not sure about the size of our clothes, take a look at the size tables, or compare your regular sizes with the following photos. In the photo, we always show the height of our models and the size of the clothes they are wearing.
Women's T-Shirt
cm
inch
| | XS | S | M | L | XL | XXL |
| --- | --- | --- | --- | --- | --- | --- |
| Length | 56 | 59 | 62 | 65 | 68 | 71 |
| Chest | 43 | 46 | 49 | 52 | 55 | 58 |
| Sleeve | 13 | 13.5 | 14 | 14.5 | 15 | 15.5 |

Dámská mikina
cm
| | XS | S | M | L | XL |
| --- | --- | --- | --- | --- | --- |
| Length | 50 | 52 | 54 | 56 | 58 |
| Chest | 104 | 108 | 112 | 116 | 120 |
| Sleeve | 50 | 51 | 52 | 53 | 54 |
Men's T-Shirt
cm
inch
| | S | M | L | XL | XXL | XXXL |
| --- | --- | --- | --- | --- | --- | --- |
| Length | 64,5 | 67 | 69.5 | 72 | 74.5 | 77 |
| Chest | 48 | 51 | 54 | 57 | 60 | 63 |
| Sleeve | 19,5 | 20 | 20.5 | 21 | 21.5 | 22 |
Men's hoodies